Clyde Gateway fuel Rutherglen office surge
November 25 2020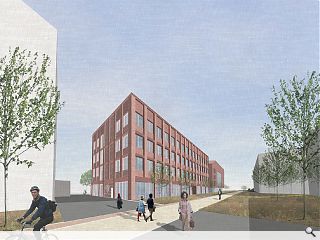 Clyde Gateway is single-handedly transforming office provision in Rutherglen with proposals to build a new office block and 157 bay car park hot on the heels of a 15,000sq/ft speculative build.
Red Tree Central is the next phase of the Magenta Office Park in Shawfield and follows on from delivery of a 40,000sq/ft office building in 2018.
Colour coordinated with its neighbour the latest scheme uses red/pink brick with white mortar and recessed panels, stacked across four floors of lettable accommodation accessed from a central circulation and breakout space.
An extended soldier course will define the main entrance with shorter runs outlining window reveals. V
ehicle access is off Glasgow Road with cycling encouraged through provision of 70 bike bays and ready access to the Clyde Smartbridge alongside a newly landscaped footpath.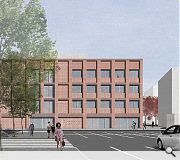 Clyde Gateway are leading efforts to revitalise Glasgow's brownfield hinterland
Back to November 2020