Landscape-led Crossbasket Castle expansion caters for tourism resurgence
November 18 2020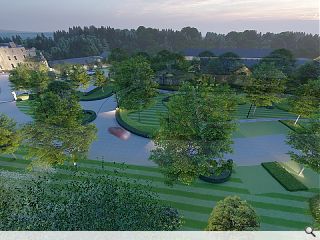 The newly restored Crossbasket Castle in High Blantyre is to receive further investment with plans for a £15m extension housing additional rooms, a restaurant and spa.
Owners Steve and Alison Timoney have spent five years and £10m restoring the A-listed 15th-century castle as a hotel and are now looking to finish the job.
Alison Reid-Timoney said: "After purchasing what was a building in a state of total disrepair and on Scotland's Buildings at Risk Register, it became a true passion project to carefully restore the castle and grounds to their resplendent glory. The expansion marks the next phase of this journey.
"We believe pushing forward with this large-scale investment at this highly uncertain time, is not only essential to protect our existing business but is the kind of thing that will encourage the industry to fight back and deliver the standard of facility that our customers are keen to see and will inevitably return to with their usual enthusiasm."
A landscape-centric design led by Park Hood and Denholm Partnership Architects has been chosen for expansion in the estate grounds, delivering an additional 40 bedrooms as well as four detached lodge houses.
Subject to approval from South Lanarkshire Council construction work could begin early next year and complete by 2023.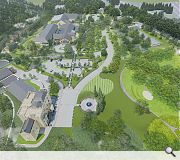 A series of linked buildings including a glass fronted 130 cover restaurant are planned for the grounds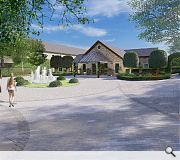 New additions will be finished in natural stone, render and horizontal cedral timber cladding
Back to November 2020