Saltcoats amenity flats to continue town centre regeneration
November 13 2020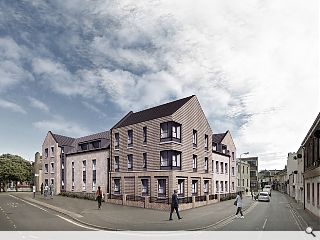 Cunninghame Housing Association with Mast Architects have presented plans for a block of 24 amenity flats on the corner of Green Street and Vernon Street, Saltcoats.
The chosen approach will see existing accommodation, currently vacant, demolished to allow a new build solution conceived with the needs of elderly residents to be built from the ground up, including wheelchair-accessible properties and high-performance insulation.
Detailing their approach the architects wrote: "Consideration was given to the re-use of the existing building however the option to rebuild is seen as a means of achieving greater density on the site and realising an enhanced architectural quality and sustainable performance that will benefit the site's context."
The prominent town centre site stands close to the recently renovated town hall and will address the street edge with a projecting corner element, pronounced gables and a staggered facade to mimic the ad-hoc development of the surrounding area.
Close entrances are restricted to a self-contained rear courtyard with fencing and shrub beds presented to the street.
Back to November 2020