Moxon Architects settle into bespoke Highland studio
November 10 2020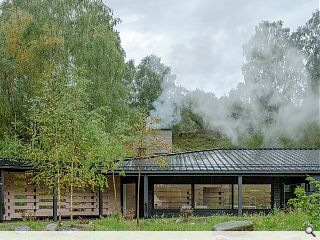 Moxon Architects have settled into a purpose-built headquarters for 25 staff within a former quarry in the Cairngorms National Park.
Surrounded by protected woodland Quarry Studios is anchored by twin 'vertical concrete chimneys' which mark the public-facing side of the practice and private office space, each half segregated by a massive timber wall slicing through the low-profile main body.
Employing a hybrid steel and timber frame, sheet metal roof and black timber walls the roof is set in parallel with the excavated quarry lip, falling in step with the quarry sides and ending at a covered collonade toward the heart of the site.
Moxon managing director Ben Addy said: 'Quarry Studios has seen Moxon Architects commission, design and build a bespoke home for our team in Scotland, offering us unique freedoms combined with the inherent challenges of being client, architect and contractor. The location has afforded us the privilege to showcase our understanding from a client perspective combined with the knowledge and environmental commitments we hold as architects."
This arrangement accords opportunity for interior spaces to be paired with appropriate outdoor areas with offices opening onto a courtyard and clerestory glazing connecting the studio with a roof terrace.
Remediation of spoil and regrading the land has facilitated native planting Interlocking timber walls are formed from Douglas Fir, sourced and worked locally. Green credentials are further burnished by redirecting rainwater to a newly formed bog with natural ventilation and a 250m borehole tapping thermal energy from the granite bedrock.
Generously spaced working areas marry well with current social distancing rules and a public cafe will operate from the site for six days per week.
Back to November 2020