Balerno masterplan cloaks new homes with green links and landscape buffers
November 6 2020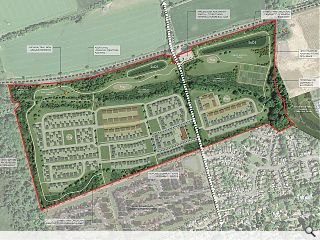 Planning permission in principle is being sought for a residential-led development at Ravelrig Road, Balerno, by EMA.
Extending the northern settlement boundary across farmland the plan would deliver new homes in addition to a health centre and community hub, all set behind a 'landscape buffer' and green links to minimise intrusion upon the landscape.
The development will incorporate a network of paths and parkland, including a disused railway line safeguarded as a possible cycle and footpath as well as a 2km loop of walking routes around the site perimeter. An area of open ground to the far north will be set aside set aside as parkland with additional tree and shrub planting joining newly formed SUDS basins.
In a design statement, EMA wrote: "Key development frontages will be established to all main areas of open space within the development as well as primary street and lanes. Housing along the southern boundary will back onto the edge of the site thereby protecting the setting of the existing neighbourhoods. Housing which fronts onto Ravelrig Road will also be set back to protect the setting around the entrance and increase visibility along this section of road as well as the northern edge of development which will allow for pleasant frontages onto the woodland."
Materials under consideration include dry dash render and reconstituted stone details with a mix of red and grey roof tiles.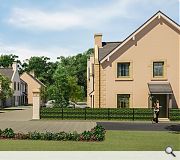 New homes will bound the under construction Ravelrig Heights development
Back to November 2020