Perth push to deliver 18 affordable homes
November 4 2020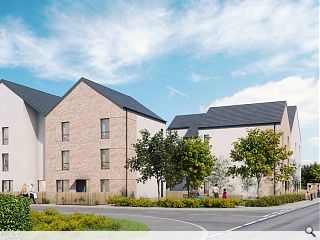 Plans to build 18 affordable homes on the outskirts of Perth have been registered by Hadden Group and ADP Architecture on the site of the now-demolished Fairfield Neighbourhood Centre.
Twin apartment buildings arranged around a shared community courtyard at the junction of Fairfield Avenue and McLeod Street, which will be marked by a public green space doubling as a main point of entry.
In their design statement, ADP wrote: "The proposed development aims to create a sequence of landscape spaces linking the existing northeast corner of the site to the tree-lined pedestrian walkway to the south.
"Retention of existing trees around the northeast corner of the site has heavily influenced the layout of the proposed development. The existing trees will be enhanced with proposed new hard and soft landscaping in this area, creating an improved piece of public realm and a welcome pedestrian entrance to the scheme."
Finished primarily in white render and pink/buff brick the buildings will include feature brickwork panels to add visual interest and unify the proportion of openings.
The partnership between ADP and Hadden continues the relationship established by the delivery of a new nursery in Falkirk.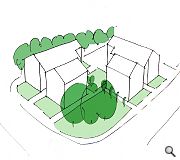 New homes will defer to existing trees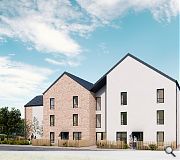 The site has already been cleared in readiness for development
Back to November 2020