Medieval bridge discovery reveals early engineering secrets
October 29 2020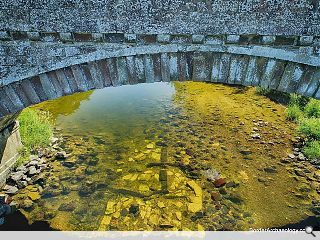 A medieval bridge hidden beneath the River Teviot for centuries has been rediscovered by archaeologists following two years of research, field surveys, drone photography, dendrochronology and radiocarbon dating.
The Ancrum Old Bridge project saw Ancrum and District Heritage Society (ADHS), funded by Historic Environment Scotland and supported by Dendrochronicle and Wessex Archaeology, dive below the waters to recover native oak timber dating from the mid-1300s, which remained undisturbed following construction of a replacement crossing in 1784.
Embedded in a masonry the timber foundations would have once supported a multi-arched bridge and are all that remains of the original structure.Further research indicates that the bridge would have been in-situ for over 400 years, linking the Kings Way between Hawick and Berwick.
Dr Bob MacKintosh of Wessex Archaeology Coastal & Marine commented: "In addition to the surprisingly early date, it seems the foundations were built using branders, a wooden frame laid on the riverbed upon which the courses of stone were placed. This is the first-time branders have been found in an archaeological context in Scotland. They are otherwise only known from historical sources and two accounts of engineering work on extant bridges completed in the 19th and early 20th century."
The discovery of some of the oldest bridge remains to be recovered from their original position is particularly important as no bridge built earlier than the 15th century survives in Scotland.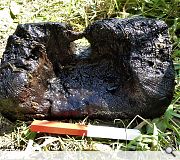 Timbers provide material for tree ring analysis in a region where few medieval buildings survive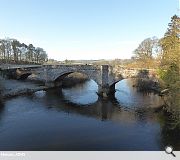 Travellers have had no idea of what lies beneath Ancrum Bridge for centuries
Back to October 2020