B-listed Edinburgh mansion to be brought back to life
September 28 2020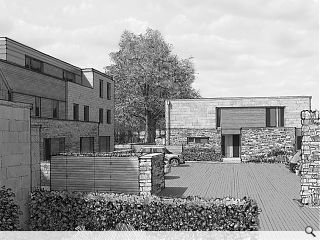 Crew Architects and Newcrest Residential have brought forward plans to transform the B-listed Kirklands House care home into 11 apartments.
Working alongside David Narro Associates and heritage specialists Simpson & Brown the works will entail demolition of modern extensions and their replacement with a new build addition while retaining the original 1868 mansion, lodge and gardens.
In a planning statement Crew wrote: "Careful consideration has been made to both north and south elevations to ensure the interface with the existing building is sensitively resolved with the new building 'set back' and reduced in scale to form a more respectful relationship than present. "
Internal and external areas of historical significance as identified in Simpson and Brown's heritage report have been left unmodified or addressed with a 'light touch' to ensure the existing character is unharmed."
New elements will be contemporary save for a traditionally-styled lodge signifying the main entrance - all finished in local buff stone, seamed metal cladding/roofing and natural slate.
Improvements to the listed building include replacing clay roof tiles with salvaged slate and replacement sash and case windows.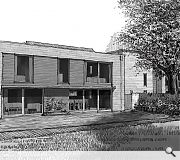 New and existing buildings will enclose a central parking court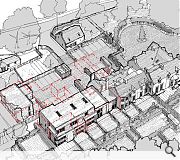 The listed building will retain a level of autonomy from new elements
Back to September 2020