Glasgow Science Centre spills out with Pacific Quay takeover
September 10 2020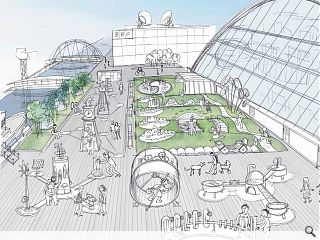 Glasgow Science Centre is to benefit from a programme of public realm improvements designed to promote broader engagement and activity around Pacific Quay.
Part of a UK-wide investment to develop a more inclusive programme of learning and events the Connect project is being led by the Wellcome Trust and Sustrans and will enhance the quayside environment with active travel connections, outdoor exhibits and a promenade.
Austin-Smith:Lord has been appointed to deliver these objectives by establishing a Science Square on land between the centre and the adjacent BBC building and forging a new pedestrian priority entrance.
Expounding their design solution the architects wrote: "The design proposal enhances the arrival sequence to Glasgow Science Centre and untangles the current modes of transport that weave through the site to create a 'front garden' which prioritises pedestrians and improves placemaking.
"Bringing the ethos of the Science Centre outdoors, GSC wish to provide an outdoor science museum which becomes an asset not only to the Science Centre but for the surrounding community; encouraging learning through play and free for all to experience."
In all some 1.6ha of land will be upgraded between the River Clyde and Pacific Drive; including new paving corresponding to the Fibonacci sequence with coloured concrete pavers alleviating the current grey expanse.
Back to September 2020