Busy DIA pull out all the stops
|
Send to friend
September 19 2008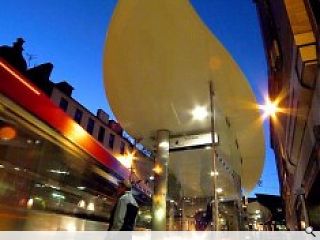 Following on from the failure of Transport London's two design competitions for a new bus shelter, the Dundee Institute of Architects (DIA) have initiated a student competition to redesign the iconic London bus stop. Admirably following public transport tradition with a long wait for one design competition to come along only to be spoilt by two at once. The DIA sponsor a sketch competition at their local architecture school the Duncan of Jordanstone College of Art every year.
DIA President Ged Young explains "our annual competition is open to all students at the college, and is held as a 'warm up' exercise at the start of each year. It is an excellent way for the DIA to engage both with the students and via its exhibition the general public alike. This year's competition is particularly engaging and we hope slightly cheeky in order to generate as much enthusiasm from the students as possible. It also underlines to them their potential in an increasingly global industry. Why should a Dundee student not be able to go on and be a successful designer across the world? After all Dundee's own bus stops designed by local architects Nicoll Russell Studios seem to have done rather better than their equivalents in London and have picked up many national plaudits and a DIA award. I do wonder if London's bus stops would win one of our awards."
"We believe that the upcoming Olympics and the coverage that the red bus received in Beijing, will encourage the students' creativity to overflow and that we will receive many excellent entries. The competition has included many excellent responses in previous years and has been widely exhibited. We hope that this year's efforts will be even better. Every student has been encouraged to create their designs in 3D, incorporating models of the route master so that we have a palette of entries which will be tremendous fun, particularly for children when we come to exhibit them. I am sure that my fellow judges and I will have a very difficult time selecting the winners, and we hope that the outcome will underline exactly what can be done outside the capital."
"The DIA is a particularly active chapter of the Royal Incorporation of Architects in Scotland. We seek to educate and encourage the importance of the built and natural environments in our area. That is achieved by engaging with the public, and the local press particularly by means of our annual awards which this competition is an integral part. Our awards are increasingly well entered and underscores the quality of design available in our area. This year we have had nearly 100 entries which will entail a considerable judging exercise across 2 days when we come to visit all short listed entries. We of course thank all of our sponsors and most particularly our major sponsor the Royal Bank of Scotland."
Back to September 2008