Homes away on Stornoway
|
Send to friend
September 19 2008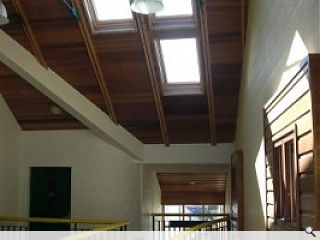 Elizabeth Haldane Court, from Anderson Associates Ltd, occupies a brown field site within Stornoway's outstanding conservation area and is bounded by a mixture of high quality residential, public and religious buildings. The project is intended to demonstrate what can be achieved in remote island communities with all the associated constraints of geography, transport, costs and exposure.
It encompasses 22 flats incorporating two disabled units. Eighteen of these flats are accessed from a central atrium embracing 3 levels - ground, first and second floors. In order to comply with building regulations the space had to meet a variety of requirements, in terms of users, fire and acoustical aspects, aesthetic and functional.
Western Red Cedar together with fair faced block work, washed sea cobbles, exposed trusses and metal ties are designed to enrich external spaces. The first and second floors have been subject to the creation of openings or cut-outs, linking floor to floor, space to space and characterised by curved balustrading and hand rails. The roof is largely natural slate with additional elements clad in lead. Windows and doors are sourced from Norway
A spokesperson for Anderson Associates advised: "The design philosophy underlying this project is complex. An attempt has been made to address modern approaches to design, blended with traditional surroundings, but also to invigorate the existing environment by both colour and form – both derived from the local context. Care has been taken to acknowledge climatic exposure and scale, thus elements are broken up, colours are introduced, and eaves lines and verges are extended, providing both shelter and shadow.
"Extensive landscaping has been planted around the development, as per planning conditions and to enhance the natural environment between this development and its neighbours. The form of the development has been produced to minimise its impact on what is largely a residential area. Scale has also been addressed by the use of varying colours and materials and the break up of roof lines.
"We believe we have produced a design which answers individual needs and, at the same time, has produced a space which is a pleasant experience for its residents. Internal colours have been selected to maintain the light and spacious environment and to reflect the external colour scheme."
Back to September 2008