Live/work digital community to call disused runway home
August 18 2020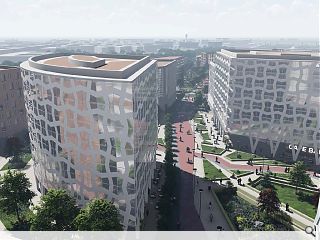 An outline masterplan governing the regeneration of a decommissioned runway at Edinburgh Airport has been drafted, detailing how a digital quarter might be established next to the transport hub.
Led by Crosswind Developments, with design work by Optimised Environments and Corstorphine & Wright Elements Edinburgh aims to establish a post-pandemic live and work community - centred on a mixed-use hub, public piazza and newly formed parkland around the Gogar Burn.
Throughout these spaces, active travel will be encouraged through a network of paths and cycleways connecting to Edinburgh Gateway station as well as the planned International Business Gateway.
In a statement, the masterplanner wrote: "A key feature of the masterplan is its connectedness both within the site and to its edges to ensure that neighbouring uses and developments can connect to and through the site in due course.
"In preparing this masterplan we have been mindful of the importance of; living and working in close proximity to minimise the need to travel other than by foot or cycle, the need to plan for outdoor space that can be used for local exercise and fresh air, and the need to provide for day to day facilities and services close to home."
Detailed planning applications will be brought forward on a phased basis for individual plots and blocks.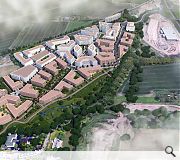 A raingarden corridor will link apartments to the commercial hub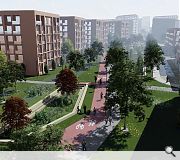 Vicinity to the airport will restrict building heights to 75m above sea level
Back to August 2020