Student demand prompts Fountainbridge flats rethink
July 29 2020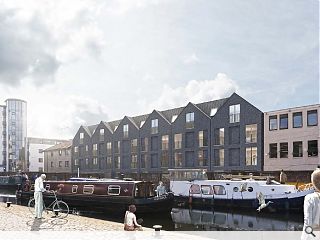 Edinburgh's student residential market continues to spring back to life with an application by ISA to demolish existing workshops at 7-11 Lower Gilmore Place in favour of 74 studio flats.
Led by Glencairn Properties the build forms part of the wider Fountainbridge development area and will replicate the scale and massing of a live consent for 20 canal house-style flats and 216sq/m of commercial space.
This will necessitate several minor amendments including repositioning of a stair core and access pend.
Outlining how the changes can be achieved ISA wrote: "Further to review of the structural grid created by the roof form and windows of the existing consent, it was clear that the bays would lend themselves to a studio apartment scheme without any significant alterations.
"The ground floor facade required adjustments to suit the proposed change of use, with the previous vehicular pend relocated and amended to pedestrian use only."
As before the scheme will employ a smooth dark brick under a zinc roof with a communal lawn area to the rear accessible from a pedestrian pend.
Commercial workshops including a martial arts school and pregnancy centre will be demolished
Residential consent was first obtained in January upon appeal
Back to July 2020