Sonic waves illuminate Brighton Marina
|
Send to friend
September 17 2008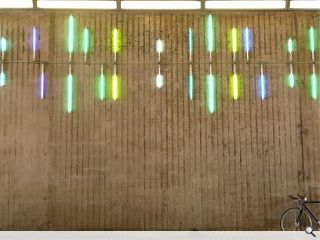 Scottish architectural practice, DO, are making a name for themselves in Brighton with a number of illuminating proposals. Big ticket works set to make a splash include the i-360 with Marks Barfield, Brighton Station and The Viaduct.
DO's most recent installation graces the vehicle entrance tunnel to Brighton Marina, a piece of public art commissioned by Brighton and Hove Council and X-Leisure.
Commenting on the design, DO's Adrian Stewart said: "The addition of tonally adjusted fluorescent luminaires is intended to establish a visual threshold to the marina.
"The varying intensity and amplitude of the installation on the wall is an abstracted diagram of the sound curve experienced while driving through the enclosed space."
Back to September 2008