Time called on B-listed Dundee villa
July 14 2020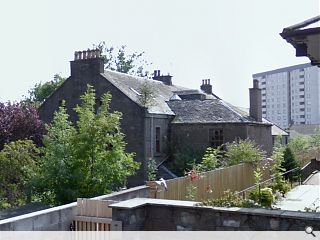 A fire racked Victorian villa at Eadies Road, Dundee is to be swept aside under plans to expand Forebank Care Home.
The B-listed Forebank House currently languishes on the Buildings at Risk Register and subject to a dangerous buildings notice with the structure lying exposed to the elements.
A structural assessment carried out by McKinney Nicholson found the roof to be in an advanced state of disrepair with the majority of roof timbers missing or damaged, allowing vegetation to penetrate wallheads.
In a statement, the engineers wrote: "Due to the current condition of the building we would recommend that at a very minimum all the internal elements including walls, floors, ceilings and all finishes be removed back to the stone to leave only the external walls in place. This would then allow a more detailed investigation of the current exterior walls to be able to confirm if the structural integrity of these has been compromised.
"This may in itself bring about another problem in that although the internal structure is beyond repair it may still be providing a degree of support to the external walling. Removal of these walls may cause the external walls to become more vulnerable and lead to partial or total collapse.
"As we cannot ensure that the internal demolitions can be done safely it may be more prudent in this case to fully demolish the structure."

Given the advanced state of disrepair it is proposed to erect a three-storey extension to an adjoining care home designed by Peter Inglis Architect.
Back to July 2020