Retrofit recommendations seed a sustainable renovation revolution
July 13 2020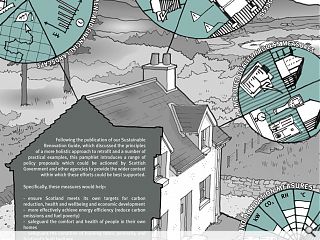 As the retrofitting of existing homes to meet tougher energy-efficiency standards moves up the political agenda The Pebble Trust and Scottish Ecological Design Association have published fresh guidance in support of practical and sustainable renovation.
Written in conjunction with Historic Environment Scotland and John Gilbert Architects the Sustainable Renovation Guide is born out of past failures to achieve hoped-for energy savings, which have too often generated a whole host of problems of their own including shoddy workmanship, moisture ingress, inadequate ventilation and a loss of heritage value.
A failure to properly maintain interventions is also linked to the underperformance of retrofit measures, fueling a discrepancy between real-world results and theoretical gains.
Penny Edwards, Trustee at The Pebble Trust said: "It is vital that the mistakes of the past in trying to roll out mass insulation programmes are not repeated and we avoid poorly executed refurbishments that damage properties and create unhealthy internal environments."
Chris Morgan, director at John Gilbert Architects added: "We welcome increased spending on retrofit however we urge everyone involved in the process to consider not just the quantity of houses retrofitted but the quality of that work and consider the carbon and health implications.
This needs to take into account Scotland's climate and historic building processes." To minimise such failings the document calls for improved oversight by building control of design and compliance in addition to greater short-term funding and more urgency in bringing forward zero-carbon targets.
Back to July 2020