Peel harbour Glasgow ambitions
|
Send to friend
September 16 2008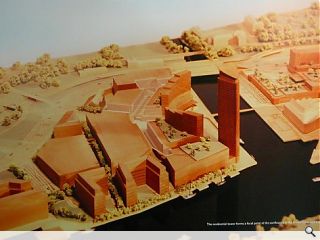 A revised outline planning application has been submitted by Peel Holdings and Chapman Taylor architects for the £1.2 billion Meadowside Quay.
These call for a triple sided 36 storey residential tower to anchor the estate. Complimentary retail and leisure uses would flow out and around the base, connected by covered streets on 3 interlinked levels. Facilities would incorporate a Namco family entertainment area and a 10 screen cinema complex. Offices screen a large multi storey car park at ground and first floor level to arrivals, preventing vehicular penetration of the site.
The original dock entrance to the Graving Dock, since infilled, will be restored as a significant feature within Central Square with restored dock gates and stepped sides creating an amphitheatre for people to sit and relax. This public open space provides clear lines of sight to the Transport Museum.
The curve of the hotel on Pointhouse Quay reflects the geometry of the restaurant and residential crescent on opposing banks of the Kelvin. An extensive podium could house a mooted MGM Casino, landscaped roof terraces opening a vista to the Clyde and Transport Museum to guests.
Further west a sequence of three office blocks occupy a diminishing sliver of land.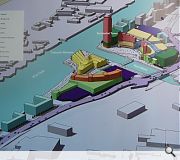 Back to September 2008