Solar cells power prison cells
|
Send to friend
September 16 2008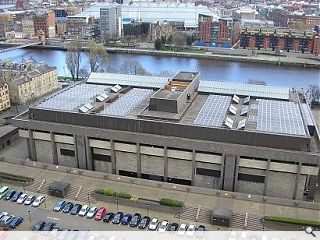 A hidden revolution is taking place on the roof of the Glasgow Sheriff Court building. Out of sight from the public a vast photovoltaic array, the largest in Scotland, thrums with power as rays of solar energy are converted to electricity.
The system has been engineered by Mott MacDonald for the Scottish Court Service, providing an active area of 700sq/m and an output of 97kWp under optimum conditions. This will reduce the court's energy expenditure by an estimated £20,000 a year with a corresponding 40,000kg reduction in carbon dioxide emissions.
Gilles Charbonnier, Mott MacDonald's project director, said: "It is a shining example of how low carbon technology can be used to reduce costs and utilities consumption and improve an existing building's green credentials."
Output from the cells will be monitored constantly and communicated via a page on the court's website.
Image provided by Mott MacDonald.
Back to September 2008