Cast-iron support sought for Egyptian Halls slavery museum
June 16 2020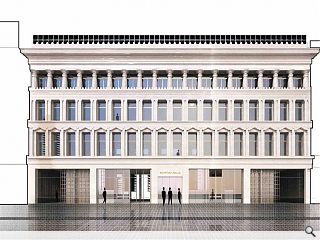 Two leading contenders have emerged in a competition led by the Alexander Thomson Society (ATS) to find creative reuses for Glasgow's
Egyptian Halls
.
A panel of judges selected the 'Temple of Thought' as their preferred solution for the decaying landmark while a parallel public vote saw a 'Museum of Slavery' emerge as the lead contender. This latter option has found traction from the leader of Glasgow City Council down with Susan Aitken reiterating the council's support for either a standalone museum or a permanent exhibition dedicated to slavery and empire.
Slotting into this ambition the Egyptian Halls work is designed to commemorate and educate people on the 3.5m people estimated to have been bought and sold as slaves in Britain prior to the 1833 Slavery Abolition Act.
Concept plans would see shop units vacate the ground floor to accommodate a ground floor exhibition hall. Hanging above visitors heads four 'monumental' memorial towers would be suspended from a new cast iron glazed roof, acting as a constant presence and reminder throughout the building.
Explaining the approach behind his entry Gavin Fraser wrote: "To respect and retain the character of the existing building and its unique design, all interior additions are based upon an unsung hero of Thomson's work - the cast-iron frame. In the interior I have taken the cast-iron frame, simplified its representation, scaled it and applied it to all fixtures and fittings; stairs, partitions, exhibition stands, seating and planting."
In a statement, Scott Abercrombie, director of the Alexander Thomson Society, told Urban Realm: "We think that this is a timely and potentially fundable solution, but the Coalition for Racial Equality and Rights (CRER) has been leading this campaign for over a decade and we don't want to step on their toes. We hope that we can work with CRER to explore whether using Egyptian Halls as a home for their museum would be viable and are delighted to hear the initially positive comments that Zandra Yeaman gave us for our article, as well as those from the public over the weekend who think this is a great opportunity to both confront Glasgow's history and protect its heritage."
The Temple of Thought contender meanwhile picks up on Egyptian motifs while providing a space for quiet contemplation with a library, galleries and exhibition halls. The judging panel included Robin Webster, RIAS; Mark Baines, ATS; Isabel Garriga, Glasgow Institute of Architects and Susan O'Connor of the Scottish Civic Trust.
Back to June 2020