Housing association builds character in Lockerbie
June 12 2020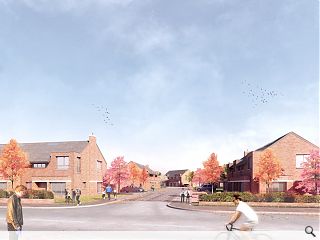 Cunninghame Housing Association has commenced delivery of 45 affordable homes on the site of the former
Lockerbie Academy
.
Delivered in partnership with Dumfries & Galloway Council and Collective Architecture the brownfield project has been conceived as a gateway to the town, delivering a mix of houses, flats and bungalows which knit into the existing built fabric.
Establishing a new urban edge to the town the homes focus on a generous crescent of shared surface space, enhancing the approach to the new Lockerbie Academy campus.
Individual houses employ a varied mix of projecting bays, dormer windows, porches and chimneys to bring visual interest, with particular emphasis given to gables and street elevations to establish a sense of place.
Project architect Ross Aitchison commented: "Like many similar sized towns, Lockerbie requires a significant increase in the provision of high-quality affordable housing to meet local need. To deliver this we have worked closely with the client, and through engagement with the local community, to form a new streetscape with a strong sense of character.

"Our approach places emphasis on simple, recognisable, architectural moves that improve domestic life – providing covered entrance porches and bay windows, making well-proportioned spaces, and generous external spaces. In doing so we have looked to reference and evoke the familiar, enduring qualities of the high-quality public housing built in Scotland in the early 20th Century.

"Using a palette of repeating architectural elements, we are bringing forward proposals which will improve the housing offer for the local community and ultimately make life better for the new residents."
Contractor Ashleigh has now moved on-site to commence the delivery phase following a formal easing of lockdown restrictions.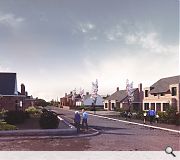 Architecture is employed as a tool to instill identity in the new community
Back to June 2020