University of Dundee degree show goes digital
June 12 2020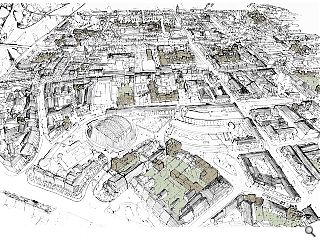 University of Dundee students have adapted to changed circumstances by proving that the show must go on, opening up the work of the architecture and urban planning classes to new audiences via digital means.
In common with all schools the traditional public degree show event had to be cancelled, bringing alternative avenues for communicating their work into play to ensure continued recognition, readership and reward.
Architecture and urban planning tutor Jamie Brown said: "Clearly this has been a rather unusual academic year, as it has been in practice, and for every other aspect of our lives. Our students worked remotely from March, and there were certainly new teaching challenges to address.

"Staff across the school worked hard to ensure that the students were given as much support as possible; and the students applied themselves very professionally to the task at hand. They worked diligently and produced work that we all feel they should be proud of.

"Unfortunately, the students didn't have an event to show off their work at the end of the year. However, we may find that as the architectural profession adapts to address the long-term implications of this situation, these students may benefit from their early experience of our new (normal?) way of working."
Selected works from this year's showcase include daring interventions in the Dean Village, Perth and Loch Lomond; with students harnessing the power of model making, rendering and drawing to communicate their ideas outwith campus.
The work shown is an extract of a wider selection, originally published on the
Dynamic Stasis blog
.
Back to June 2020