New Tollcross neighbourhood to be established at a former bus depot
June 5 2020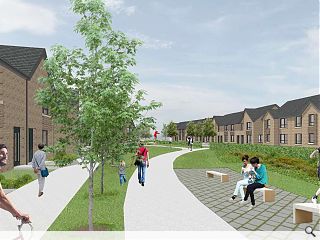 A substantial wound in the built landscape of Tollcross, Glasgow, could be healed by a vision for a new community, led by AS Homes and EMA.
Occupying a former bus depot to the south of Tollcross Road the masterplan sets out an ambition to establish a new street frontage as part of a development of 139 homes and landscaping.
Homes will be finished in a mixture of red and yellow brick with pre-cast stone detailing, with north-south green routes providing access where development is constrained by existing sewer lines.
Focussing on the provision of open space a masterplan statement read: "The sewer wayleave transecting the site, provides an opportunity to integrate high quality open (green) space to the development. This will connect people to the public realm and provide a successful, vibrant place for the Parkhead area.
"The density of the site is just over 45 dwellings per hectare (DPH), in alignment with the requirement of between 30-100DPH for an inner urban area. Whilst it is acknowledged that the density sits in the lower range, it is considered appropriate based upon the scale and massing of adjacent buildings and the grid pattern suited to the surrounding context."
Lying close to the Parkhead Cross Conservation Area the 3-hectare site is bounded by a former railway line to the south which now serves as a landscape corridor, with trees retained to serve as a buffer between an approved Cruden Homes and
Hypostyle
scheme which is now nearing completion.
Site services constrain opportunity to establish a continuous frontage along Tollcross Road
Back to June 2020