RIAS presidential contenders submit to member grilling
May 26 2020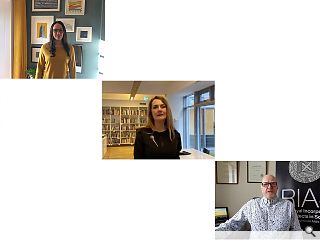 Three candidates vying to be the next president of the Royal Incorporation of Architects in Scotland (RIAS) are to participate in a web-based hustings on
Thursday 28 May at 1300
.
Up for consideration is Christina Gaiger of Helen Lucas Architects who has vowed to continue reforms introduced by Robin Webster while building a new architectural network to promote a pan-profession agenda and establish a 'role models' programme in support of new entrants to the profession while vowing to lobby for VAT applied to retrofit refurbishment to be brought in line with new builds.
Gaiger said: "It's not been so long that I don't remember what it's like to be at university or find that first job and I'm not in an elevated career position. I'm a passionate architect passionate about design and the creative re-use of buildings.
"I'm someone who will listen, reason, lead and hopefully inspire."
Karen Pickering of Page\Park will also be fielding questions on the day, having vowed to bring her business acumen to the body by lobbying for changes in procurement to prevent the right architects from being disadvantaged in her pitch for votes.
In a bid to oversee a more inclusive approach Pickering would also reach out to schools to involve students at a younger age in the work of the incorporation. Pickering will also push for the regulation of CPD training to be undertaken in Scotland in an effort to bring the science of architecture to the fore - not just the art and craft.
Pickering said: "I've been at Page\Park now for 28 years, I'm chair of the board of directors and so I understand what skills and governance are required to run a successful organisation.
"It's not being in this role, it's actually about doing something in this role."
Presenting himself as an established voice within the RIAS Gordon Smith has vowed to put the climate crisis to the forefront of his election campaign, while decentralising operations away from the Edinburgh/Glasgow duopoly and pushing for the RIAS to play a more defined role as an architects union.
Smith has also pledged to make working in architecture a positive career choice for everyone by stamping out sexism, discrimination, long hours and unpaid overtime.
He said: "The post requires an individual willing to spend time engaging with members. Over 35 years in practice and 20 years of experience serving the RIAS I have an understanding of the particular challenges facing architects."
The successful candidate will be named during the RIAS AGM on 30 June.
Back to May 2020