Govan Lyceum to reel in cinephiles once more
April 30 2020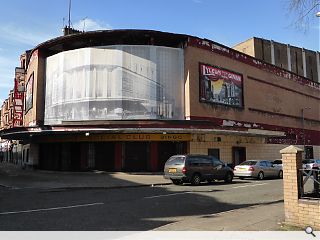 Govan's landmark Lyceum Cinema is to be given a new lease of life under plans to return the vacant B-listed Art Deco building to use as a cinema, concert hall and restaurant.
As part of the work building owners Versatyle will repair and smooth damaged surfaces to allow a fresh coat of paint to be applied while a new set of external doors will be inserted in front of the existing set together with new canopy LED lighting.
A new masonry wall will segregate entrances to a 500-seat cinema on the first floor from a ground floor restaurant.
Internally non-load bearing walls will be removed while existing stairs at the cinema entrance will be carefully removed to increase the floor area for a planned restaurant.
The focus of the revitalised building will be a 900sq/m concert hall capable of hosting bingo, music and conferences with a seating capacity of up to 800.
Image by John Lord
Back to April 2020