Strathaven subsumes East Overton House in housing expansion
April 29 2020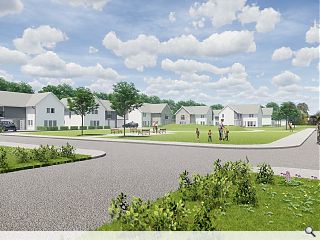 Halliday Fraser Munro is progressing plans for a greenfield expansion of Strathaven with the delivery of a second phase of housing under the
East Overton masterplan
.
Housebuilders Bancon Homes and Paterson Partners propose to erect 37 homes intended to serve as a coherent extension of the historic South Lanarkshire market town.
Delivered as part of a broader development of 22 hectares around East Overton House, retaining open views toward the listed building framed by new green spaces.
In their design statement, the architects wrote: "The masterplan promotes the considered design of massing and street layout to create a distinctive and familiar urban expansion of Strathaven and not a separate development.
"The massing of the house types have been designed to reduce the width of the gables and create appropriately proportioned gables which project on the front elevation. This will create a distinct pattern within the street scene and will minimise large blank gable walls within the development which have little relationship to the locality.
"This creates a shallower plan and avoids narrow frontages which typically generate a deep plan and in-appropriate proportions."
Homes will be arranged around a landscaped central open space that aims to encourage walking with a network of footpaths and lanes.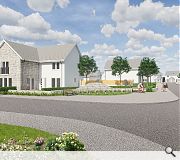 Stone walls and soft landscaping frame the site entrance
Back to April 2020