Cairngorm road bridge to alleviate military road pressure
April 27 2020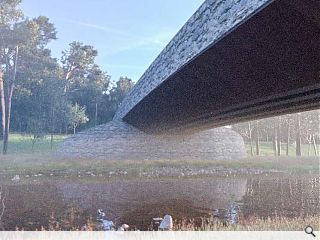 An A-listed road bridge in the Cairngorm National Park is to be bypassed with a new road and crossing to help alleviate vehicle damage to the stone rubble structure.
As such a new
Gairnshiel Bridge
is proposed to be built across the River Gairn, employing a low profile design of reinforced concrete abutments clad in matching locally sourced granite with steel beams supporting a single-carriage road deck.
Detailing their approach Moxon Architects wrote: "Geometrically the bridge is defined by three key considerations: Firstly the river, which necessitates a single span crossing with a slight pre-camber.
"Secondly the requirement to maintain a slender profile in elevation. This is achieved by tapering the cross-section of the lower portion of the structure, delivering the necessary structural performance whilst making the construction depth appear thinner than it is.
"Finally the desire to create a form which balances the robust materiality of local masonry construction (as seen at the existing historic structure) with slimline, bold elements and material selection which gives the new bridge a distinct point of difference from the old."
A steeply humped single arch bridge was built in 1749 by major William Caulfield as part of a military road linking Blairgowrie to Fort George but has suffered recurring damage from increasing vehicle use.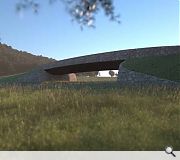 Locally sourced granite will provide visual continuity wih the old bridge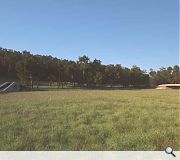 The low slung bridge wll stand alongside its historic namesake
Back to April 2020