40 Cairngorms homes to meet park population pressures
April 23 2020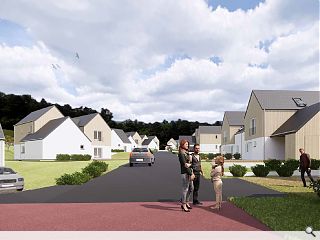 Colin Armstrong Architects have brought forward plans to build 40 affordable and private homes on 14 acres of grazing land within the village of
Kincraig
, within Cairngorm National Park.
Documents filed with Highland Council for Cairngorm Residential show an extension to the existing settlement with hosing establishing a streetscape along the B9152 with uncultivated grassland remaining as amenity space alongside a wetland SUDS feature.
Sandwiched between a main road and a railway embankment the scheme arranges accommodation around a 'loop' access road defining a central island and peripheral homes.
Detailing their approach the practice wrote: "Streets and the spaces between buildings are given character and identity through a variety of house types composed of a palette of recognisable forms. These help to break up the spaces in between into interesting yet
understandable zones.
"Repeated motifs like pitched roofs, regular openings, and elemental expression of massing and materials, help to create a neighbourhood that is unified and consistent, yet has sufficient visual interest to have its own character. #
"Properties on the north-west boundary are deliberately rotated 45 degrees to the road, to help establish identity, while the road facing house-types has a dual aspect design, responding both to the inner street and the main road."
All properties will present in white render with timber effect cladding, landscaping is to be undertaken by Highland Landscape Design.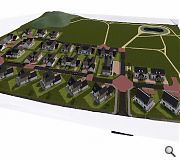 A mix of island and perimeter homes will be built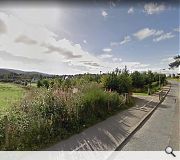 The site at present is used as grazing land
Back to April 2020