Glasgow green lights glazed terracotta hotel
April 22 2020
Hawkins\Brown Architects have obtained planning consent to deliver a 250-bed hotel at the junction of St Vincent Street and Pitt Street.
Vienna House
is led by Artisan Real Estate with Atelier 10 and Quattro Engineers and is described as being the first project to meet Glasgow City Council's gold standard criteria for carbon reduction via a 38% improvement on emission requirements set by the Scottish Technical Standards through use of technologies such as air source heat pumps.
Demarcating the western boundary of the central conservation area the tower will stand upon a two-storey plinth containing a restaurant, bar and conference facilities, with massing stepped back to protect the integrity of the B-listed St Columba's Church and fashion improved public realm.
Peter McLaughlin, head of Studio Scotland at Hawkins\Brown, commented: "To reference the traditional use of ceramics in Glasgow and some of the tones that characterise this tradition, there will be a varied palette of double-height green/teal/turquoise profiled terracotta cladding, set within an articulated limestone frame, to give this new building a bold and distinctive character, but one rooted in the context of Glasgow."
Charlotte Swanson, regional development manager at Artisan Real Estate, added: "We are delighted that despite these challenging times of COVID 19 GCC have worked seamlessly to achieve consent ahead of our planning timescales. Our next focus in Glasgow will be city-centre residential."
A start on site is expected to be made in autumn 2020 for occupation by 2023.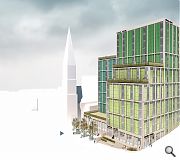 A series of setbacks defer to the B-listed St Columba's Church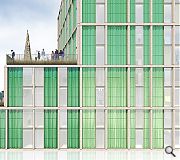 The angular build reflects the grid iron pattern of city centre streets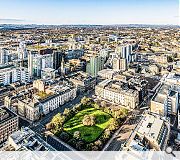 Vienna House will be Artisan's third hotel in the city
Back to April 2020