Tradeston Supertalls
|
Send to friend
September 11 2008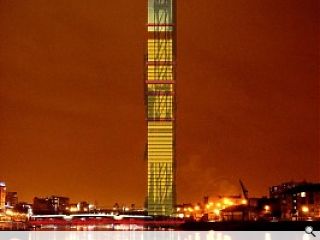 Aedas Architects have unveiled striking concepts for a duo of talls more akin to the booming economies of the Far and Middle East than musty Tradeston.
A skeletal sail taller than the Kingston Bridge is long would dwarf the city's existing tallest, The Science Tower. Providing an unmissable statement of intent and a dramatic counterpoint to the emerging business district, the tower would signify arrival to millions of travellers every year.
Further east toward the George V Bridge rises an even greater behemoth. A golden rectilinear form that dances skyward, the opaque façade screening an irregular latticework that juts and protrudes at will.
The two towers would be visible across the greater Glasgow area, pinpointing the city centre amidst the morass of suburban sprawl.
Neither scheme is currently commercially viable, each being several orders beyond present limitations but both serve to intimate what is achievable on the fringes of possibility.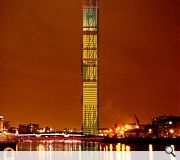 Back to September 2008