Buchanan Galleries air rights expansion back in contention
April 3 2020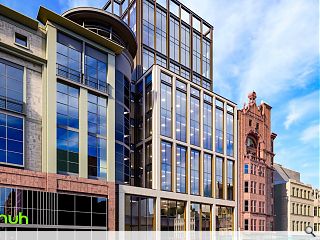 A significant expansion of Glasgow's Buchanan Galleries shopping centre is again on the cards with the submission of updated pre-crisis plans for a major mixed office and retail development by Michael Laird Architects.
The south extension is being led by Landsec and will see vertical infill development over an open-air rail cutting sandwiched between Buchanan Street and Queen Street Station.
Incorporating a new subway entrance from Dundas Square the build will deliver a complex engineering solution devised by Arup to retain ventilation when decking over the railway line while permitting light to the north elevation of the A-listed Dundas House.
An integral part of the work will see Dundas Square upgraded to provide a public space more befitting of the redeveloped Queen Street Station, serving as a unified entrance to the new offices, subway and main-line rail services.
In their design statement the architects noted: "Fundamentally there are two elevations; Buchanan St and Dundas St. The elevational treatment to Buchanan Street has a natural hierarchy whilst the retail façades and entrances will be of a high quality with the aim of attracting premium retailers.
"The Dundas Street elevation has to incorporate the Subway entrance and travellator, tunnel ventilation and service access, and requires careful consideration. The office is entered via an internal stair that rises over the Subway entrance to a reception space."
Arranged over 11 floors the building will provide a combined 13,240sq/ftof retail space and 141,750sq/ft of office accommodation upon completion.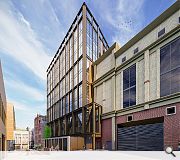 A metal grid will oversail the stone facade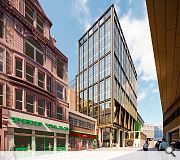 Challenging topography combined with the mix of uses necessitates multiple nested entrances on different levels
Back to April 2020