Highland mountain bike centre saddles up
March 27 2020
Highland planners have awarded planning consent to a mountain bike centre on a tapering strip of land in the small village of Bunchrew, near Inverness.
H+I Adventures with Loader Monteith Architects propose to erect an operational headquarters to accommodate expansion of the business on land close to the south shore of the Beauly Firth.
The purpose-built biking facility would stand alongside the existing space, providing a clear divide between the public facing ground level meeting area and café with private office space on the upper level.
Externally this accommodation will be presented as a contemporary 'vernacular' addition to the village formed from a slate roof, timber cladding and masonry base, with a corner window making the most of garden views.
In a statement the architects wrote: "One particular prevailing typology within the surrounding environs is agricultural, comprising a masonry base, a timber clad upper section and a roof in a third material (metal, slate or timber).
"Our proposal uses the same material typology and arrangement – but adds to it a high level of architectural refinement to arrive at an appropriate proposal for this rural setting.
"The masonry base in the case of agriculture seeks to protect the building from high passing trade in the from of vehicles. In our case, the high passing trade is staff, bicycles and visitors."
A separate application will follow shortly to build an additional two houses on the opposite end of the plot.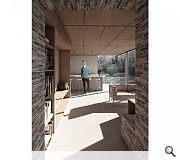 Internally furniture is built from the same materials as an extension of the architecture, with extruded walls forming private nooks and seats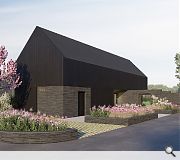 Landscaped grounds will soften the exterior approach
Back to March 2020