Perthshire retirement apartments launched
March 26 2020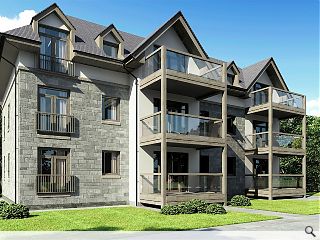 Glenfarg Homes have lifted the lid on their latest project, a scheme which has been custom designed for the over-50s.
Glenfarg Apartments is positioned in the heart of the Perthshire village of the same name and comprises 12 two-bedroom apartments together with a three-bedroom cottage, all situated within private landscaped grounds.
The development includes underground parking with electric charging points and lift access to all levels with enclosed balconies ensuring each flat has access to its own usable outdoor space.
In a statement, Glenfarg Homes wrote: "… we have ensured that each Glenfarg apartment is efficiently insulated and fed with a unique off-grid Calor gas supply. Fitted solar panels power common lighting and double glazing (triple on the motorway side) locks your heat in and keeps costs manageably low."
The apartments will only be built upon reservation of the properties, with buyers offered the chance to tailor design and layout to their specification.
Back to March 2020