Aberdeen business school takes concrete step forward
March 20 2020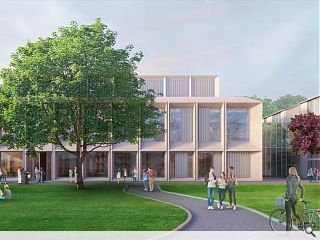 The University of Aberdeen has detailed its plans to create a new business school within a redeveloped Johnston Halls as part of a wider renewal package for the Old Aberdeen campus.
Reiach & Hall Architects have been tasked with delivering a brief to unify the school's scattered teaching and learning facilities within a single consolidated footprint, replacing a post-war refectory and halls.
Set back from the High Street around a planted courtyard the current built form of the halls will be maintained subject to extensive downtaking and strip back to the original masonry, while the refectory is demolished.
This will allow the halls to be repurposed as staff offices while permitting construction of a new business pavilion on the footprint of the refectory with a new terrace helping to frame the retained courtyard and connect to the new office space.
With flexibility and adaptability in mind the pavilion will follow a rigorous structural grid capable of subdivision within an outer shell of precast concrete bays.
In their design statement Reiach & Hall wrote: "The intent is to form the bay as a single precast section- reducing the scope of joints and interlaces and improving durability and weathering. Reveals finished with acid etch contrast with a polished leading edge.
"The surface quality of the precast is enhanced by the finish. The etching process reveals the mica in the concrete mix which reflects light and sparkles. The polished edge reveals the aggregates – offering a visually richer trim."
The University of Glasgow is in process of delivering its own new business school.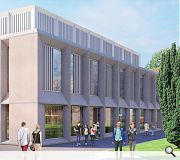 A landscpaed courtyard will remain at the heart of the plan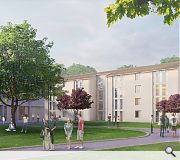 A new four-storey glazed link will connect the former halls
Back to March 2020