Family play centre proposed for B-listed Laurieston Printworks
March 18 2020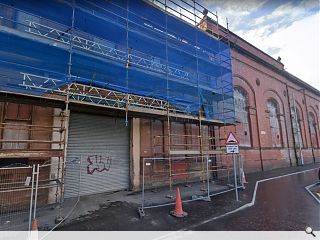 A disused power station (latterly used as a printworks) is set for a new lease of life under plans to repurpose the vast space as a family activity centre.
The former Glasgow Printing Works on Pollokshaws Road has been taken on by Spectrum Properties and Jewitt & Wilkie Architects to undertake a light-touch conversion that will preserve many irreplaceable features of the B-listed warehouse.
Proposals include forming a new car park and rear access to the rear with an interior atrium linking front and back doors which will double as a reception and secure holding area from the play zones beyond.
Exterior works will be limited to re-cladding a newly exposed gable to the northeast created as part of site clearance works for the M74 extension, which will be over clad in colour coated steel profiled sheeting, signage and LED lighting.
To make the property watertight the entirety of the roof will also have to be replaced sympathetically with conservation roof lights and a slate finish to visible portions.
In a statement, the architects wrote: "Through the historic neglect, vandalism and demolition of its neighbouring property, the former St Andrews Cross Electricity Works/Glasgow City Council Print Works has been pushed into a level of prominence to the M74 extension, one of the busiest motorways in Scotland. It has become a prominent corner feature, without any architectural detail to accommodate its prominence, other than the front elevation to Pollokshaws Road.

"The proposal to re-clad the roof will make the overall block one single architectural composition, whilst the re-slating of the northern roof section will reinforce the historic significance of the building. By cladding the exposed northern gable, wrapped round to the eastern gable, the 'damaged' elevations will have been repaired and enhanced to reflect the internal activity of the building."
Demountable fixtures will be used to prevent further damage to historic features with surviving elements such as ornate entrance hall tiling being preserved.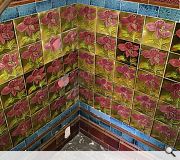 Historic features will be preserved
The front facade will be cleaned up with new signage and a revamped entrance
Back to March 2020