Historic Annan burgage plot provides 27 homes
March 4 2020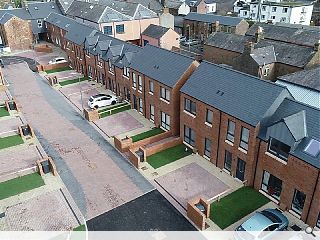 Cunninghame Housing Association has taken possession of 27 new homes on the site of a former agricultural supplies depot within the Annan town centre conservation area, Dumfries & Galloway.
Delivered by Manning Elliott Partnership the development includes conversion of a late Victorian shop and associated storage to form 5 homes, alongside a further 22 new build properties including terraced housing and flats in place of cleared warehousing.
Occupying a historic burgage plot the linear scheme is constrained by retained boundary walls with houses positioned to maximise views and openings to the front.
In a statement, the architects wrote: "Following a review of the feasibility options, it was agreed to progress the layout on the basis of creating a streetscape with houses facing onto front gardens with in curtilage parking spaces perpendicular to a shared access road."

Conservation properties benefit from new openings formed using reclaimed stone salvaged from down takings.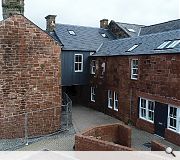 New build properties stand in parallel to the High Street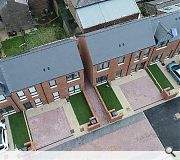 Rear walls sit in close proximity to the site boundary
Back to March 2020