Laurieston looking up with a high-density masterplan
February 28 2020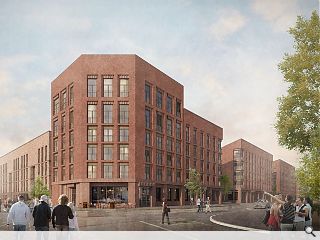 Third phase plans for expansion of Glasgow's Laurieston district have been beefed up in response to the city centre leapfrogging the River Clyde at Buchanan Wharf.
With the latter serving as a commercial hub for the area a public realm and landscaping strategy will enhance connectivity to neighbouring Laurieston which will receive an increase in both density and scale through the introduction of a third grid line to the interior streets and upping the scale along Norfolk Street.
Led by Urban Union the proposals emphasise variation in design, abetted through collaboration between Stallan-Brand and McGinlay Bell who have worked with a shared 'kit of parts' that allows fine detailing around windows and entrances while ensuring a unified brick aesthetic throughout.

Commenting on the phase three plan the architects wrote: "The increase in density has been an integral feature of the regeneration masterplans for Laurieston, dating back to the initial Urban Initiatives proposals.

"Increasing the density supports Laurieston as an inner-city district, promoting urban living and strengthening the ambition of knitting into the city."

Phase three will include several distinct character zones from an urban frontage of apartments blocks along Norfolk and Gorbals Streets with embedded ground-floor commercial spaces, culminating in a reinstated Gorbals Cross. to a series of 'park pavilions' bordering a new linear green space to smaller-scale terraced streets nestled behind.

Aside from civic parkland residents will also have access to pocket gardens providing a more intimate aspect.
Back to February 2020