Winchburgh tap park power potential with green energy pledge
February 26 2020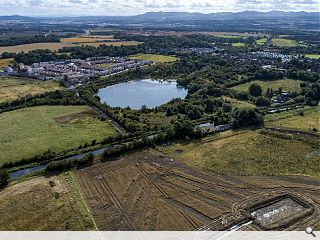 Winchburgh Developments have taken a green energy pledge for a 300-acre West Lothian masterplan spanning a flooded clay pit and two sites at Glendevon and Hawkhill.
In partnership with Greenspace the developer will assess the suitability of parkland for ground and water source heat as well as solar power to fulfill a significant proportion of the planned towns energy needs.
John Hamilton, CEO, Winchburgh Developments said: "It's very fitting that Winchburgh, a former oil shale town with a rich mining history, has this great potential to take a leading role in exploring energy solutions that will be fit for the 21st century."

Julie Procter, chief executive of Greenspace Scotland, added: "We haven't had the chance to work on a project of the scale at Winchburgh before, so this presents us with a massively exciting opportunity to create Scotland's, and the UK's, first town with a significant portion of its heat energy generated from its parks. Another first worth noting is that Winchburgh Developments is the first private developer to sign up to Greenspace Scotland and the ParkPower scheme."

Work is already underway at a 78-acre site in Auldcathie Park with the ultimate aim of delivering 3,450 new homes, schools and outdoor spaces.
Image by Gary Baker
Back to February 2020