Fair Isle Phoenix to stand as replacement bird observatory
February 25 2020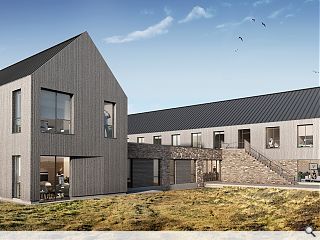 A Fair Isle bird observatory devastated by fire is to rise again following the submission of plans for its replacement by ICA.
The all-new observatory and guesthouse will stand in the most geographically remote inhabited island of the United Kingdom, standing over 20 miles from Shetland and Orkney.
A vital breeding ground for seabirds and migrating species the island has become a hub for research and tourism, both of which were jeopardised by the fire.
Now a replacement facility will once again rest within this landscape, presenting twin gables to South Haven with panoramic vistas across the North Sea, largely within the footprint of the original.
Both elements will be conjoined by a single storey link element to maintain unobstructed views of Sheep Rock for first floor guest accommodation while permitting light into a sheltered courtyard.
Lead architect, Steven Byrne said: "I am delighted that the planning application has now been submitted for the vastly important Fair Isle Bird Observatory (FIBO) on Fair Isle. "The nature of the Fair Isle project includes a community aspect, meaning that it will have a significant positive impact to the island as a whole."
The new observatory is expected to complete by summer 2021.
Back to February 2020