Libya warms to America
|
Send to friend
September 8 2008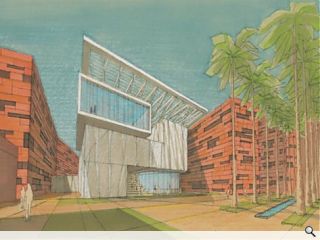 International architecture firm RMJM, has won a contract to design two new university campuses in Libya from the Organisation for the Development of Administrative Centres (ODAC).
These projects comprise a 123 acre satellite campus for the 7th of October university in the area of Bani Walid, east of Tripoli. The campus will accommodate 3,200 students in language, business, education and medical technology and a 222 acre campus for Al-Asmariya university in Zletin, 100 miles east of Libya's capital city.
Dr. Mustafa Mezughi, Project Director for ODAC commented:
"Inspiration for the design of the Bani Walid campus master plan came from the desert rose, a naturally occurring silica crystal. The planning theme was also informed by the nearby town of Ghadames, where sunken courtyards are a natural cooling device and help irrigate the perimeter oasis. The campus' compact design is driven by issues of sustainability, and the design team anticipates incorporating more sustainable building technologies and strategies as the design progresses. "
The contract is to be managed by RMJM's global education studio, the first US architects to win business in Libya since relations normalised.
Back to September 2008