Green lung to breathe new life into Hamiltonhill
February 6 2020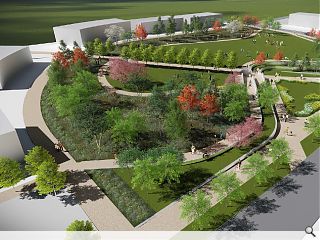 LUC has drawn up a landscape masterplan for Glasgow's Hamiltonhill district on behalf of Queens Cross Housing Association, as part of efforts to build a new community.
Conceived as four separate elements; a community park, play park, link space and tranquil zone the scheme seeks to integrate SUDs infrastructure and habitats within a connected green landscape.
The first of these zones will serve as a multifunctional space drawing together a range of amenities, walking and cycling routes achieved by removal of a 4m high retaining wall. This will be joined by a play park focussed on a flat area of grass to support informal sports and games alongside play equipment and a small hill complete with spiral access and a viewpoint.
A linear pedestrian route will join this area to Bonhill Street flanked by drainage basins culminating in a 'tranquil space' inspired by an Oriental Zen Garden defined by selective planting and sculpture.
Avenues will be defined by semi-mature trees joined by informal tree planting, hedges, shrubs and a wildflower meadow.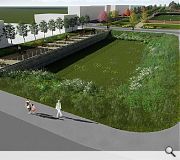 Drainage basins will be turned into features in their own right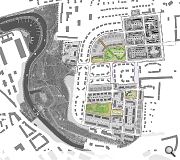 Grfeen architecture will connect planned residential development
Back to February 2020