Landscape first Hamiltonhill homes green for go
|
Send to friend
April 30 2019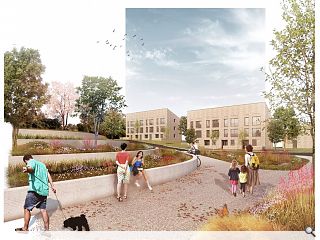 A masterplan prepared by Collective Architecture and LUC for Glasgow's Hamiltonhill district has born its first fruits with the submission of plans to build 201 homes for Queens Cross Housing Association on the former Wester Common and St Cuthberts Primary School site.
Phase one plans focus on land bounded by Hobart, Bardowie, Carbeth and Stonyhurst Streets which will accommodate six distinct blocks comprising a mix of houses, townhouses, flats and wheelchair accessible properties.
Homes will be finished in brick predominantly with select use of metal cladding for variety in a bid to harmonise with the green space of the nearby Claypits Local Nature Reserve. Each property will sit within one of six 'character zones' defined by their relationship to the nearest green space.
Explaining the evolution of their design approach the architects wrote: "All perimeters are treated as frontages with public rooms facing the street and large openings promoting a strong relationship between building and streetscape.

"Interest is generated in building form in response to topography and the need to step back at corners to allow existing service routes to be maintained and new surface water storage tanks to be located within adoptable areas; aesthetic and spatial benefits flow from the response to practical necessity."

Three further phases of 462 homes and parkland are pencilled in for delivery through to 2025.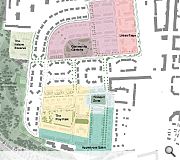 Homes will be grouped around six distinct greenspaces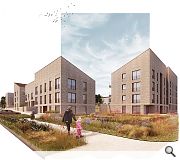 Looking toward the junction of bardowie and Carbeth Street
Back to April 2019