Former West Lothian paper mill fast-tracked for development
February 4 2020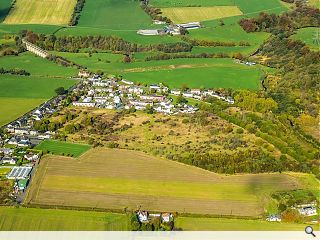 Alba Developments are gearing up to progress 550 homes on an 80-acre former paper mill in the village of Westfield, West Lothian, this autumn.
Comprising a mix of houses, flats and a green corridor the family-friendly development is touted as heralding attracting improved public transport and retail supply to the village together with a pledge from West Lothian Council to increase capacity at Westfield Primary.
As a precursor to development, a planning application has been filed for improved access with ground surveys expected to be undertaken shortly.
Alba Developments MD Shane Ticklepenny, said: "We are very proud of our plans at Westfield and hope it will inject new life into this lovely village. Our investment will bring an economic boost and new amenities, attracting families to the area and leading to upgrades to the local school and bus links to improve the connectivity with neighbouring towns."
The £100m project dates back to 2010 when residential plans were drawn up by Edmonstone Homes and EMA first emerged for the sprawling site, but this was never progressed.
With a transfer of ownership to Alba last year several minor amendments have been made to those plans with the hope of fast-tracking construction, with completion not expected until 2030.
Back to February 2020