Portobello back green home stresses privacy
|
Send to friend
January 27 2020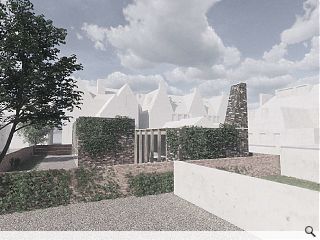 An underutilised back lane off Portobello High Street, Edinburgh, could play host to a family home under plans submitted by Haar Architects.
St Mary's Place Lane has been earmarked for a contemporary build in an area dominated by period terraces and villas, with its impact lessened by excavating a lower ground floor, ensuring that the full height is only marginally higher than nearby garages.
Heading off privacy constraints inherent to an overlooked site the architects wrote: "In a back green area where every property already overlooks each other, we took great care to ensure that our proposal is compliant in terms of privacy.

"Our proposal essentially turns its back on the north, east and south, with the main windows facing west into the garden on the ground floor, and along the lane, and over the garages on the first floor.

"There are high-level windows that face east, to allow some morning light into the first-floor dressing room and ensuite, but again, these are at least 22m away from the nearest neighbours window."

Clad in Petersen brick the property will use a red brick to blend with an existing boundary wall with a darker shade specified for the first-floor accommodation. Windows meanwhile will be framed in precast concrete with a sedum roof serving to further minimise intrusion.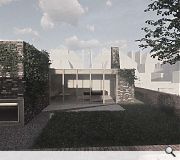 Privacy constraints dictate the placement of a west-facing main window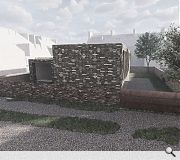 The home will be finished in dual tone Petersen brick
Back to January 2020