Wilson's Weekly Wrap
|
Send to friend
September 5 2008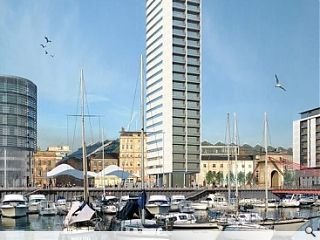 River runs dry
Only a few weeks now until the 'Design Develop & Unify Glasgow' conference highlighted previously in the Wrap, but if ever an event's hype was confounded by reality, this has to be it.
All along the city's waterfront, projects such as Custom House Quay and 'Elphinstone Village' are being put on hold, victims of the credit crunch or, more accurately, the jaw-dropping ineptitude of the nation's banks to maintain the flow of finance necessary to complete work already begun. Anchor tenants too are few and far between and with commercial rent levels dropping, the banks have two more excuses to divert attention from their own failings. Not that any of these problems are exclusive to Glasgow, but the need to find solutions is perhaps more urgent if the mooted £5bn regeneration of Clydeside is not to falter terminally.

A lot has certainly taken place, and a lot – until now – was underway, but these projects only scratch the surface of the scale of activity required to impact visibly and successfully along the full length of the river. Actually comprehending the reality of the challenge would be useful, starting with a good look at other post-industrial cities around the UK. Liverpool and Manchester have, for example, effected huge transformations in recent years. Both, like Glasgow, have much still to do to fill gap sites with substantive urban development, but the quality of many of the buildings that have been delivered in each of these cities in recent years is – if we're honest – several notches up on what has emerged in Glasgow. Liverpool's waterfront is developing a scale and coherence that is still some way from being achieved on Clydeside.

This is not to denigrate Glasgow's efforts, more to put them in context. The Manchester-Liverpool conurbation has a population base of around 20m – a significant economic factor when developers are considering major investment projects. Glasgow, with its west of Scotland conurbation of around 2m pales in economic comparison – whether commercial, industrial, retail or residential. In the current economic circumstances, simply surrounding the begging bowl with the usual adjectives ("biggest", "best", "brightest", "boldest", etc) might work for readers of the Evening Times, but its unlikely to pull the heartstrings of subscribers to the Estates Gazette.

The biggest challenge to Glasgow's future prosperity is arguably the city's boundary, an anachronism manifested most evidently by its taxi fleet which charges through the nose for crossing it, but more particularly by the political refusal of wealthy surrounding areas to countenance being drawn within its ambit. If Glasgow is to ever prosper again, this has to change and any conference that fails to address this key issue is simply a lost opportunity.


Meadowbank musings
Don't say I didn't tell you –I've mentioned a couple of times before of the almost certain death of City of Edinburgh Council's proposals to demolish Meadowbank Stadium in order to generate funds from the sale of the land it sits on, so it was no surprise to see in the news this week the formal announcement confirming that things had been put on hold.
True, there was a certain inevitability about this given the downturn in the housing market, but that shouldn't be used to excuse the council's lamentably amateurish – and sadly continuing - incursions into the wicked world of property. Somebody might have passed the word around the staff though since – only days after the announcement, another item in the press informed the capital's weary citizens that a public meeting is to be held next week to discuss the stadium's future.
The Council's Head of Sport, Stephanie-Anne Harris, will apparently attend, but its probably too much to hope that the agenda will focus on the quality of sports facilities in the city – more likely further justification of plans to demolish and replace the stadium with something substantially smaller, a visionary approach a little at odds with wider political aspirations to achieve a healthier, fitter Scotland.


Airports – Take Two
Rumour has it that the Schipol Group, the owners of Amsterdam Airport, has its eyes on whichever of its two central belt shopping malls BAA is forced to sell. The Schipol Group is owned by the Netherlands government and the City of Amsterdam, which makes one wonder why a similar partnership can't be created in Scotland – Manchester Airport, after all, is owned by its city council and has established itself as a highly profitable international hub for the north west of England under its stewardship.
Ultimately the question of who owns one or other of these airports will be irrelevant to most members of the public who use these facilities providing the experience is considerably more civilized than is presently the case (and the fault is not all BAA's – presumably it was the Home Office's bright idea to erect those subliminally aggressive signs in the immigration halls that tell us we are now at the 'UK Border'?). Civilising these two airports will take some real design skill, a commodity not much in evidence at present in either. Still, if either Edinburgh or Glasgow should end up in the hands of the Schipol Group – and they could do much worse, the status quo by a very substantial margin being the least attractive option - it will bring a whole new meaning to "going Dutch".


PR & Marketing Tip # 2 – Consistency wins every time
Many architects actually believe that the professional press favours certain names purely on the basis that their own work never merits a mention. Instead of asking themselves why this might be and how they might secure more publicity for their own work, they prefer to think of themselves as outside some favoured inner circle, an inverted pleasure if ever there was one.
Looking at the general and professional press over recent weeks I can't help but remark on the almost continuous and positive coverage RMJM gets these days, a striking change from its period of involvement in the Scottish Parliament when the practice couldn't buy a good word about itself. So what has changed? Clearly an attitudinal transformation has taken place – the directors very obviously no longer see themselves as running the Millwall FC of UK architecture – but more importantly they have put a pr plan in place that covers their local, national and international work and does so through a variety of media outlets including websites and e-newsletters.
There is no question that the intended result is being delivered successfully, i.e. the aim to dramatically alter public and professional perceptions of the practice as well as communicate the overall impression that this is a very large and international organisation with excellent contacts in its key markets.

Now, irrespective of whether or not you are a fan of RMJM's work – and architects can often have an extremely subjective view of a competitor's output – its pr strategy is producing the goods big-style. I doubt there is a project in its many offices around the globe that does not have its own pr plan integrated within the larger scheme – in recent weeks alone (and quite apart from its press centre building at the Beijing Olympics which generated considerable coverage in mainstream news media) there have been announcements on planning permission for new buildings in Edinburgh for Napier University and a massive scheme to transform Leith Docks, whilst in Glasgow its masterplan for the 2014 Commonwealth Games will generate continuing publicity well into the future.
Sure, the practice has plenty of projects on the go, but the issue here is that it is getting across the message to potential clients that if they are considering an educational, health, housing or sports project to name but a few, they should be phoning RMJM before they do anything else. Its not rocket science, but its admirable to see it done well.

Moral of the story: think about how you want to see your practice to be seen and set out a 12 month plan that addresses each part of your message towards your target audience. You don't need to have a lot of projects on the go to do this – just some creative thinking about the many things your office is involved in. Review the plan regularly and apply it consistently and you'll see results - just don't expect Architectural Review to pick up on your every project. Next week we'll look at how to put a plan together.

Katona Towers
I'm sorry if the Wrap appears to be under the influence of Frankie Boyle who in every episode of 'Mock the Week' manages to make a joke about Kerry Katona, but I'm afraid I have to mention Richard Murphy again, if only because another of his projects has been taking a very Morningside sort of pasting this week. In a polite but nevertheless damning "open letter" in the Scotsman, arts correspondent Tim Cornwell takes Carlo Scarpa's love child to task for having the temerity to propose a 17 storey hotel tower at Haymarket Station and the precedent it sets for "skyline creep" (not, I might add, a description of the architect, but a reflection on the Council's tall building's policy).
Tim turns his howitzer on the city's planners too for having approved the project and raises some highly pertinent questions about the ongoing behaviour of this department and who would reasonably argue with his description of the current process? - "There's a pattern to planning applications in Edinburgh. They get announced to a great fanfare in the local press, with their impressive price tag and how much revenue they'll bring. Then the conservationists put up a bit of a fight. Then the buildings get approved. Correct me if I'm wrong, but I can't think of a single major development in Edinburgh recently where the council has said 'no, we value the city more'." Whether or not you agree with Tim, there's more, much more to all of this than meets the eye, and I'll return to it next week in a look at the ickily-named 'Caltongate' development.


And finally….
Returning to the international theme, it's been amusing to read the spats in the papers as to whether or not Scotland should have its own team at future Olympic Games and the success or otherwise of a comparably-sized country – Denmark – in Beijing. As with the medals table, statisticians can make anything of a bunch of numbers (were Denmark's medal achievement be calculated against the size of its population, as one argument had it, then the country could be seen to have done very well indeed), but a smaller, more precise news item this week sets the whole debate in context. Having previously connected itself to Sweden with an extremely elegant bridge between Copenhagen and Malmo, Denmark has now finally completed negotiations to join its southern regions to Germany with a 12mile road and rail bridge to be completed by 2018.

As you'll appreciate, this connection offers many more benefits to Denmark than will accrue to its larger neighbour, which is why the Danish government has agreed to fund the whole project to the tune of £3.5bn. Yes, you read it right - around a third of the currently mooted cost of the 2012 Olympics in London. Now correct me if I'm wrong, but I don't recall Denmark having oil wealth, a highly profitable financial services sector or even an internationally attractive commodity like whisky, so where has it all gone right for them? It can't all be down to Bang & Olufsen and Fritz Hansen but certainly, by making these two strategic geographical connections, the country has positioned its capital as the fulcrum between Scandinavia and northern Europe, a situation that in future years is likely to bear it some immense fruit.
Oh, and did I mention Copenhagen's planned investment in its airport of £100m in this year alone? No wonder a recent survey listed the city as tops for quality of life for its residents. No faffing around with UNESCO titles for this and that – Denmark clearly has the vision - and is finding the resources - to make Copenhagen a major city-region centre in Europe in the 21st century. By the time the new link over the Fehmarn Strait is completed in ten years time, the economic and qualitative gaps between our respective capitals may well be unbridgeable.


Back to September 2008