Craigmillar dementia care development brought forward
|
Send to friend
January 8 2020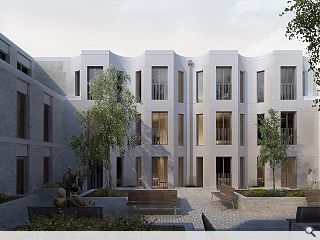 Craigmillar has been chosen to host a mixed-use dementia care development comprising a care centre, assisted living homes and student accommodation.
Plans submitted by 3DReid detail an intergenerational approach which seeks to provide non-institutional care by engaging more broadly with the local community.
A prominent town centre gap site has been earmarked for the build seeks to repair the street edge along Niddrie Mains Road with an active frontage of commercial units and public realm with the dementia care facility tucked away behind.
Prioritising wayfinding and natural light the care facility excises long corridors in favour of regular points of interest such as day lounges, activity spaces and views.
Project architect Ryan Hodge commented: "Of particular importance is continuous access to sources of natural light, and visual connection to the outdoors, this condition extends to all areas of the building, in aiding a resident's ability to re-orientate within both time and space in moments of anxiety.
"Modern dementia care thinking has shifted from the notion of 'The Gilded Cage' towards the encouragement of free movement and less defined demarcation between staff and residents. This is reflected in our design in the form of such things as soft boundaries managed by wearable tech, and the discreet integration of nursing stations within day lounge areas to minimise the feeling of surveillance, and prioritise the dignity of residents."
Designed as a single campus will bring staff, students and patients together within a single campus environment, complementing a nearby health and wellbeing centre.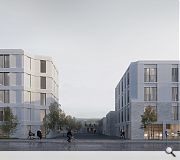 Complementary student residential and assisted living accommodation will front Niddrie Mains Road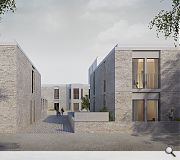 Shared activity spaces will link assisted living properties with dementia care
The dementia care centre will occupy a more secluded spot behind the main frontage
Back to January 2020