Urban Realm greets the New Year with anniversary edition
January 7 2020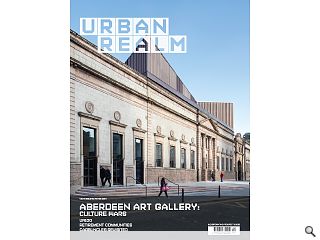 This decadal issue of Urban Realm marks not only a transition to the 2020's but also the tenth anniversary of our rebrand from Prospect magazine.

To mark our 40th issue we've journeyed back to three past winners of our Carbuncle awards to see what (if any) difference our campaigning has made on the ground. Continuing the numerical theme we also unveil our annual UR100 compilation, a celebration of all that has been built and achieved over the past year.

While we cast an eye to the future it is also important to remember the past, an approach embodied by two newly completed museums. We travel to Aberdeen Museum & Art Gallery and the Jim Clark Motorsport Museum to see how architecture can bring the past to life.

This fusion of the past and present continues with a look at Classical Edinburgh, a photographic exhibition uniting two photographers, fifty years apart in the form of Colin McLean and Edwin Smith.

We cannot wait to see what the next ten years will bring.
Back to January 2020