£7.4m Greater Easterhouse Green Infrastructure project completes
December 19 2019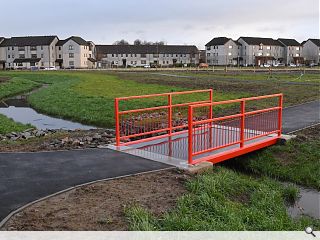 Glasgow City Council has completed a £7.4m green infrastructure project designed to introduce new parks and enhance existing greenspace throughout Easterhouse, Blairtummock, Cranhill and Ruchazie.
The surface water management programme delivered by RJ McLeod will reduce flood risk in the area, opening up additional land for housing as part of the Glasgow City Region City Deal.
This re-establishes 'blue networks' of restored local burns and introducing new footpaths, with further planting and landscaping to take place in the spring.
Dr Mike Cantlay OBE, chair of Scottish Natural Heritage said: "The scale of this project was ambitious, with a total area equivalent to more than thirty Hampden Parks transformed from vacant and derelict land into attractive urban parks and green corridors.
"Its completion has taken us a step closer to creating a nature-rich future for everyone in Scotland by improving biodiversity, creating better habitat for wildlife, helping to mitigate climate change and reduce flood risk and connecting more people with nature, with all of the many mental and physical health benefits that brings."
Designs developed by Sweco have improved connections to the nearby Seven Lochs Wetland Park and Provan Hall, alongside restoring floodplains which serve as habitat for grassland water voles.
Back to December 2019