St Peter's rudely awoken
|
Send to friend
September 5 2008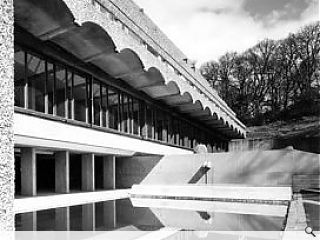 St Peter's seminary has been much in the news of late, as architects ponder how best to raise the crumbling structure from the dead.
A recent German invasion however appears to have taken this to heart, literally, by staging an impromptu vampire flick on the holy grounds. Photographer Zolita McGuicken reports sighting suspicious nocturnal activity including "scantily clad girls running around" and "girls in bikinis draped all over one of the altars".
The Catholic Church are said to be ill amused by these sleazy shenanigans and have urged pious citizenry to report any nefarious goings on to the police.
The seminal teaching college for the Catholic Church was designed by Isi Metzstein and Andy McMillan of Gillespie Kidd and Coia and completed in 1966.
Back to September 2008