Edinburgh Airport furnishes passengers with a new lounge area
December 10 2019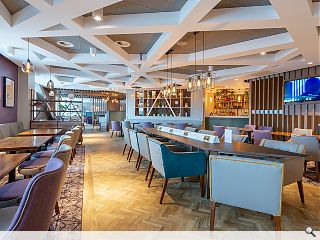 Edinburgh Airport has received a new lounge area overseen by interior design specialists DV8 Designs to improve comfort and amenities for passengers.
Aspire is situated within the new terminal building and offers a quiet space for work, relaxation and socialising detached from the hubbub of the terminal outside.
Drawing inspiration from the letter 'A' the lounge features a bespoke feature display unit, bookcase and upholstery to create a contemporary sanctuary defined by a lilac colour palette complemented by teal, mustard and metallic accents.
DV8 Designs director Lee Birchall, commented: "As a team we are incredibly proud of the finished product at Aspire Edinburgh, together we've created an inviting space that blends striking interior design and innovation with comfort and luxury. Our business and travel needs are changing at such a rapid rate and we're excited to see Aspire tailoring their offer so intuitively to their customer, to become the leading brand of airport lounges."
Graphic murals depicting famous places and figures act as a backdrop to private acoustic booths and buffet.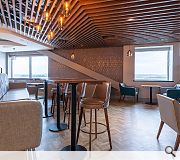 Changing ceiling installations denote different lounge zones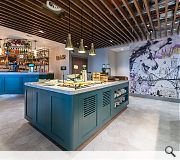 Robert Burns, The Kelpies and Sean Connery adorn the walls
Back to December 2019