B-listed Glasgow warehouse demolished in weekend operation
|
Send to friend
November 25 2019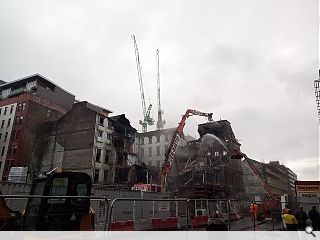 Dem-Master has completed demolition work on a new HQ for JP Morgan with the demolition of several tenements dating from the mid to late 19th century within the Glasgow Central Conservation Area.
This includes a Second Empire style B-listed warehouse on the junction of Argyle and York Street which was built between 1875 and 1878 as a warehouse for a metalworking company above ground-floor retail which had lain derelict for over two decades.
Supporting evidence commissioned from Heath Architects to demonstrate why a repair was not possible raised issues of 'contour scaling' of the stonework and structural defects in the facades.
In his report, written at the time of demolition consent being sought, Bob Heath, wrote: "There is no current science that can predict how this façade will react to any kind of intervention. It may be that whole stone replacement would work, but this has massive structural implications, such as consolidation of the hearting of the wall while the facing stones are removed and replaced.
"I do not have the experience of a project with these problems on this scale. The only similar exercise that springs to mind are the Houses of Parliament!"
The site will now host a 270,000sq/ft office block which will serve as the future Glasgow headquarters of US banking giant JPMorgan Chase. Full site clearance isn't expected until January
Back to November 2019